Recruitment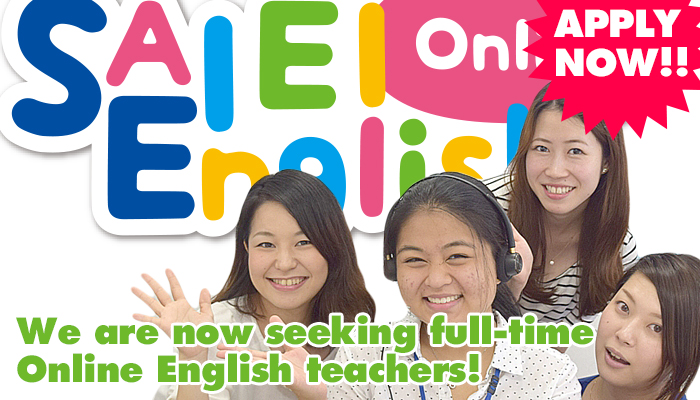 We are seeking full-time Online English teachers!
Are you passionate about teaching English to children? SAIEI Online English is looking for enthusiastic Instructors to teach English to Japanese students on the Internet. We have an exciting and motivating curriculum with an exhilarating program for assisting youths in their English studies. Combined with our extensive training, and robust style of teaching, you are sure to have found the place for you!
If you love interacting with people and are interested in working in a diverse team, Saiei Online English is the place for you!
If you love a challenge and would like to learn new techniques, Saiei Online English is the place for you!
We put great emphasis on TEAMWORK. We adopt a unique system of pair-teaching, where a Japanese teacher and a Filipino teacher work together to offer the best learning opportunities for our students. Whether you are experienced or not, we will provide you with comprehensive training, so that you can enjoy and be proud of your teaching skills. We believe that competent teaching and coaching are essential factors in helping our students improve their English proficiency.
We also have various events that will bring you a lot of challenges and bonding experiences with other teachers and staff members!
Job Description:
Career – Oriented office-based Online English Instructors to Japanese students
Salary: Guaranteed fixed salary of PHP18,000 with or without classes
Benefits:
13th month pay
Annual salary increase based on the length of service to the company
Performance-based incentives
( Performance Bonus, Perfect Attendance Bonus, etc. )
Career opportunities and promotions
( teacher → leader → trainer → manager → General Manager → director )
*Trainer Position (preferable to have TESOL and 3 years experience of online teaching and Master of English)
Job opportunities in Japan
Comprehensive training
Two days off per week
Free Japanese lessons
Higher starting salary will be given to the following:
Candidates with online or face-to-face English teaching experience
Candidates with English major and/or holding TESOL, TEFL, CELTA, IELTS or TOEFL certificates
Candidates who have worked in call centers using the English language
※The higher starting salary will also be based on the result of the applicant's interview and English test.
Job Requirements:
Must possess at least a Bachelor's degree in any field
Excellent command of the English language
Friendly, enthusiastic, patient, punctual, team player and eager to improve one's teaching skills
New graduates are encouraged to apply
Job Responsibilities:
Provide 25-minute English lessons to Japanese students online
Prepare interesting lesson plans and fun activities for each class
Evaluate / monitor students' performance and provide appropriate advice and recommendations
Attend training programs and meetings
Work Schedule:
Five days a week / 40 hours a week (e.g. 12:00 noon to 9:00 pm)
1 hour break
Contact
Office Address: 2/F Makati Sky Plaza 6788 Ayala Ave.,
Oledan Square, Makati City
Tel. Nos.:02 621 9851
Contact Personnel:Ronie A. Rentutar